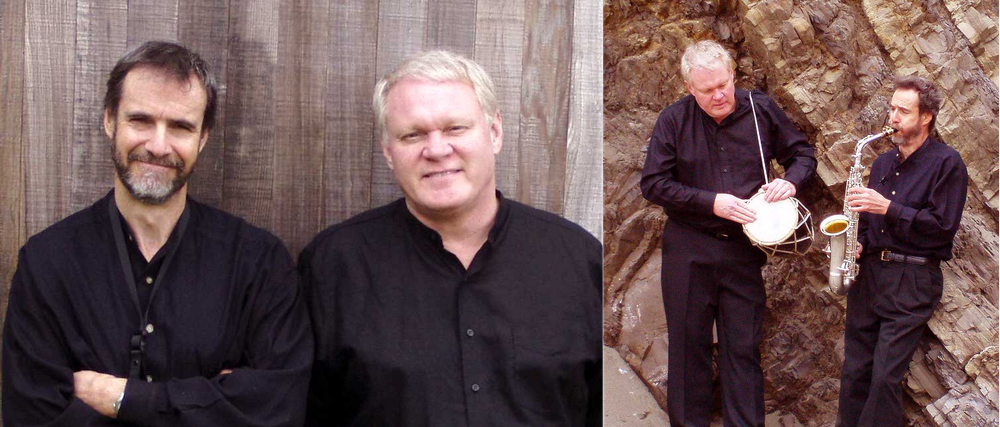 What is Intuitive Music?
People ask what this music is that we call "intuitive music", how it differs from improvisation, and how it is produced. All Jazz artists, including ourselves, and also many other "progressive" musicians, engage in the art form called improvisation, that is, creating a fresh and spontaneous personal interpretation of a known musical piece. This process is usually undertaken within a strong anchoring framework of chords, melody, key and time signatures. Another, more free form of improvisation undertakes to create a unique expression of new music collaboratively by utilizing and combining the contributing artists' musical imaginations. This form includes what is generally called "free jazz", which casts aside all traditional rules of harmony and rhythm, allowing players to express whatever sounds they wish, at whatever time. This method often generates some inherent dissonance for the listener.
 
By contrast however, all of Neon Egypt's selections are "first takes" of spontaneously arising, yet entirely coherent Intuitive Music, each piece emerging from silence, and the entire performance then captured live in binaural stereo. None of our pieces have any predetermined form, a title, a key or time signature, or even a concept before play is begun - each is truly a unique, and complete, product of the moment.
So... what is the nature of the process that produces this result? 
  ____________
 
 A Grand Artistic Experiment   

The term Intuitive Music originated with electronic and experimental music pioneer Karlheinz Stockhausen, and popularly dates from a 1971 presentation made at the Institute of Contemporary Arts in London.  Stockhausen was describing a process he was exploring whereby the participating musicians aimed to set aside the strictures of accepted musical form, style and compositional rules, and, for better or worse, to remove all internal and external impediments to experiencing purely inspired, intuitive musical expression, wherever that might lead.  A bold idea indeed.  
"There are certain abilities required now in order to play this sort of music that I call intuitive music," he explained. "Musicians must learn to become the opposite of egocentric...  When you become like what I call a radio receiver, you are no longer satisfied with expressing yourself; you are not interested in yourself at all.  You will be amazed at what happens to you when this state is achieved; you become a medium." 
Thus Intuitive Music in Stockhausen's original concept does not admit of any historical musical precedents, and therefore cannot observe any rules of composition or classifications of style, or in fact any rules at all.  Purity of inspired musical expression constitutes its sole aim. 
Stockhausen's ideas were at the time revolutionary in the west, and were at first only temperately received, even among his progressively minded audience.  However the principles he expressed have since taken firm root within the progressive music community worldwide, and continue to spawn and support ongoing experiments and active offshoots today. As Harrison and Steven both share backgrounds as professional Jazz musicians, Neon Egypt's music could be said to constitute one such expression in Jazz dress, so to speak, with Steven's melodic percussion rhythms lending a decidedly world music flavor.  The ultimate key however is the practiced ability to "get oneself out of the performance", relying instead on a stream of intuitively inspired musical information to arise, and then to express itself in one's place.
______________
The Musicians' Experience of Intuitive Music 

What does it feel like to play Intuitive Music? From the musicians' standpoint, music that is intuitively produced, and also one's view and experience of that process, tend to become unavoidably melded with the character of one's previous musical experiences and training, which in our case was predominantly as Jazz musicians.  Yet Intuitive music-making is above all a perpetual frontier, and thus we try to keep our view of its creative process open and flexible.  That said however, in our view there are certain clearly discernible characteristics of intuitive play that seem to naturally and consistently manifest, and these have defined our shared personal experience(s) of creating music in this way: 
  
- Immediacy - Intuitive music is very much a present moment activity.  Even when expressing silence, there is continuous, uninterrupted musical presence. 
  
- Spontaneity - in the pure sense.  Not the absence of discipline, but the determined, moment-by-moment absence of planning. 
  
- Inspiration - The sense that the musical information being expressed is arriving from a source other than (often higher than) oneself. 
  
- Abandonment of Thinking - The foil of inspiration, thinking tends to produce mechanical results, largely by calling upon memory and prior conditioning. 
  
- "Musicalness" - Intuitive music is music, an artistic expression.  It is not random or aleatory (chance) sound, as can be generated using mathematical formulae, or by mechanical techniques such as acoustically isolating individual players.  Allowing for differing musical tastes then, intuitive music is generally found to be listenable, even pleasing, to humans. 
  
- Non-repeatability - If a piece can be played over again, it must have an existence in thought and memory, apart from intuition.  Intuitive music is always fresh. 
  
- Threshold Experience - Intuitive musicians act at the interface where the unmanifest becomes the manifest.  
______ 
  
For the back-story on our cultivation of intuitive playing skills, see Neon Egypt's History
____________________________________
Quote:       
"The purpose of your life on earth is to learn how to yield your mind to the spirit of eternity."
- Spiritual and Esoteric author Vernon Howard 
Other Interesting Sources:
Intuitive Music on Wikipedia
Questions and Answers on Intuitive Music  (pdf) Interview transcript from K. Stockhausen's 1971 London lecture. 
Home Page for Karlheinz Stockhausen (Germany) 
Music by Marcus Stockhausen (Denmark) 
Ian Bederman's Intuitive Music Orchestra (Russia)  
Jarek Czechowicz, Peace Music (Australia) 
The Intuitive Music Home Page (Denmark) 
by Carl Bergstrøm-Nielsen