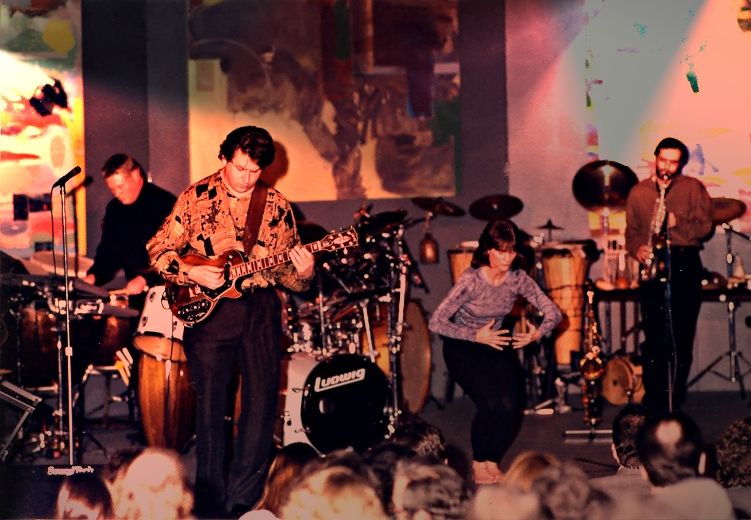 Neon Egypt's History
Neon Egypt's exploration...
outside of  mainstream jazz began in 1992 when percussionist Steven Miller and 8-string guitarist Ron Thompson formed the performance art collaborative Tabula Rasa (from the Latin meaning literally "erased tablet", or more colloquially, "blank slate") along with fellow artists Harrison Goldberg, saxophones, and Troy Silveira, keyboards.  This four piece ensemble undertook an intentional regimen of mental and musical exercises designed to reach beyond the players' past programming as jazz musicians, and augment it with the pure ability to create - by inspiration as it were - through attentive, intuitive listening. (See Intuitive Music)  Each weekly session was recorded and copies distributed for review to the participants the following week. 
The initial experiments attempted to use graphical and symbolic notation as frameworks for "concept" pieces.  The results were often hesitant and awkward, as the musicians struggled to escape their usual and familiar chordal and rhythmic jazz frameworks and patterns of playing, while attempting to create something unknown, something truly fresh. At some point it was recognized that the conceptual designs themselves, being based in thought, constituted impediments to the intuitive process, and they were dropped in favor of simple attentiveness in silence (which is how each session was thereafter begun) and pure receptivity.  Going forward it then became increasingly easier for the musicians to access an inner vector of intuitive sense, and the sessions quickly began to take on more natural musical life.
___________
As the players continued to develop their sensitivities week by week, new sonic and musical "patterns" began to naturally emerge and assert themselves. For example, the four players found that even in the absence of any conceptual framework they would consistently create music that had apparent, albeit perhaps unconventional, structure. Diverse thirty-five to forty minute pieces would often materialize that had three or more clearly defined movements, each with a discernible beginning, middle, and end.  As all sessions were recorded, this structure often only became evident upon review. 
While the work of refined listening progressed, a continual stream of new musical information began to flow through and inform these flexible movements, seemingly regulating itself in some unknown manner, so that the players would each fully exercise their creative contributions, and yet all somehow end up in the same musical "place" consistently. Usual constraints such as time signature and key signature became essentially irrelevant, as the musicians began to play in spontaneously mixed scales and rhythms. Pure, coordinated inspiration became the new glue holding the pieces together. Interestingly, it was always apparent when a particular musical piece was complete, and the players would reach a natural end point and simply all stop playing, at once. 
____________
Neon Egypt is a continuing collaboration of two of the original members of Tabula Rasa. Their music recalls many sound-forms and characteristics of jazz, yet each piece is spontaneously and intuitively improvised from beginning to end, and recorded live without overdubs or retakes.