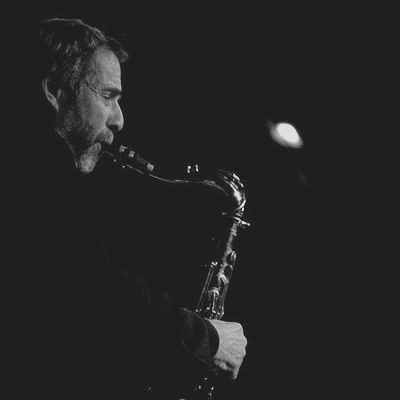 Harrison Goldberg is a familiar face along California's Mendocino-Sonoma County coast. With his trademark tools of tenor, alto and soprano saxophones, Harrison can be seen and heard in numerous local venues and on a wide variety of live and studio recordings. He maintains a leading presence in both fine Jazz, and in the more esoteric "Improv" and Intuitive Music communities north of the San Francisco Bay Area, and is a regular and prominent participant in the area's community and public events.
The energetic and creative grandson of a Russian immigrant hat maker, Harrison has "worn a few hats of his own making", including that of an abstract artist in the Dadaist tradition, a creative writer, a wine label designer, a sponsor of music education workshops, and a mentor for young musicians. His visual art pieces including paintings, collages and wine art have garnered their share of awards, and found their way into corporate and private collections worldwide.
Harrison is an alumnus of the famed Berklee College of Music in Boston, Massachusetts, and has been playing saxophone professionally since the age of 17.
Instruments:  Yamaha YSS-62 soprano sax, Selmer MKVI tenor sax, and Conn 1920's vintage silver alto sax 
Listen for his latest acquisition, a Roland Aerophone AE-10 Digital Wind Insrument, to be showcased on future recordings.
To explore Harrison's artwork, visit his personal website at HarrisonGoldbergArts.com
Harrison is also featured on All About Jazz »
Harrison's Discography: 
Scotch 'n' Soda - Goldberg/Long (Newport Productions) 1980 
Tabula Rasa - Tabula Rasa (Phenomaly Records) 1995 
Legend - Legend (Phenomaly Records) 1996 
Motif - Goldberg/Foote (Foote Audio) 1998 
Weather - Goldberg/Foote (Foote Audio) 1998 
Tales Of Kings - Neon Egypt (Phenomaly Records) 2000 
Hot Neon - Neon Egypt (Phenomaly Records) 2000 
Cool Neon - Neon Egypt (Phenomaly Records) 2000 
A New Kind Of Understanding - Inner Rhythm (Inner Rhythm Music) 2002 
An Accident Of Chance - Goldberg/Kaplan (Big Wave Records) 2004 
You'll Be Fine - Cloudfire (Cloudfire Music) 2009 
Tempest - Cloudfire (Cloudfire Music) 2010 
Cirrus Circus - Cloudfire (Cloudfire Music) 2011 
Live at the Arena Theater - Cloudfire (Cloudfire Music) 2011 
Underground - Cloudfire (Cloudfire Music) 2012 
Landscape of a Dream - Lavender Fog (Burnett/Goldberg Music) 2012 
Destination - Lavender Fog (Burnett/Goldberg Music) 2013 
Trance Lucent - Cloudfire (Cloudfire Music) 2014 
Cloudfire & Friends (Cloudfire Music) 2014 
The Infinite Now - Stardust Messenger with Ian Stinson 2016 
Pool of Mirrors - Pacific Woods 2017
Baku Live at Sea Ranch Lodge - Baku 2017
Brushstrokes - Elipsis 2018 
Sanctuary - Pacific Woods 2018 
Unearthed - Neon Egypt (Phenomaly Records) 2020 
dream smuggler - duo'Xplore (DuoX Music) 2021 - Matched set of 16 songs with 16 of Harrison's original art prints